Table of Contents
Introduction
I went Paleo in 2012 and hardcore Autoimmune Paleo (AIP) at the beginning of 2014. After chronic exposure to toxic mold, I find myself intolerant to a huge number of foods and very susceptible to cross-contamination. My compromised gut is complicit in my Hashimoto's Thyroiditis, IBS, and a wide range of food sensitivities that make it difficult for me to eat without access to quality ingredients (grass-fed beef, etc.) and my own cooking equipment. These issues only get worse with the stress and lack of sleep that go hand-in-hand with travel.
At the beginning of 2015, my family started planning a vacation to Disney World in Orlando, FL. My sister, my mother, and I all share Hashimoto's, compromised guts, and wide-ranging food sensitivities, so planning a trip like this takes a lot of time and care to ensure we can all feed ourselves. I am, by far, the worst of us. Usually eating out involves me watching everyone else eat while drinking water. Planning a 7-day vacation to a place not known for its culinary sophistication was going to be difficult.
Trip planning
We were fortunate to be able to trade in a timeshare week for a room at Disney's Saratoga Springs resort. The resort has a pleasant, relaxing atmosphere, and being able to stay within the Disney complex is a huge bonus. Regular, free buses to all of the parks and resorts, ferry boats to Downtown Disney, and a lot of stuff within walking distance make your stay on the Disney properties very nice.
We had a one-bedroom suite, which included a small kitchen (Teflon cookware, of course). This, plus an expensive taxi-ride to Whole Foods allowed me to cook a lot of food for myself at the resort. Many of the Disney resorts will have a small grocery selection at their gift shops with bacon, eggs, milk, lunch meats, yogurt, and similar stuff; however, don't expect high-quality organic meats and produce.
Snacks
I've made peace with the fact that being able to buy food I can eat when I'm traveling is going to be a special treat, not the rule. Because of this, I try to plan accordingly and bring lots of relatively non-perishable snacks.
I brought a backpack for carrying food and water into the parks. It was inconvenient to carry around, so we rented a small locker (as of this writing, $12 per day with a refundable $5 deposit) at each park we went to. If you're using Park Hopper, keep your receipt and you can use it to rent a locker at another park on the same day for just the cost of the deposit.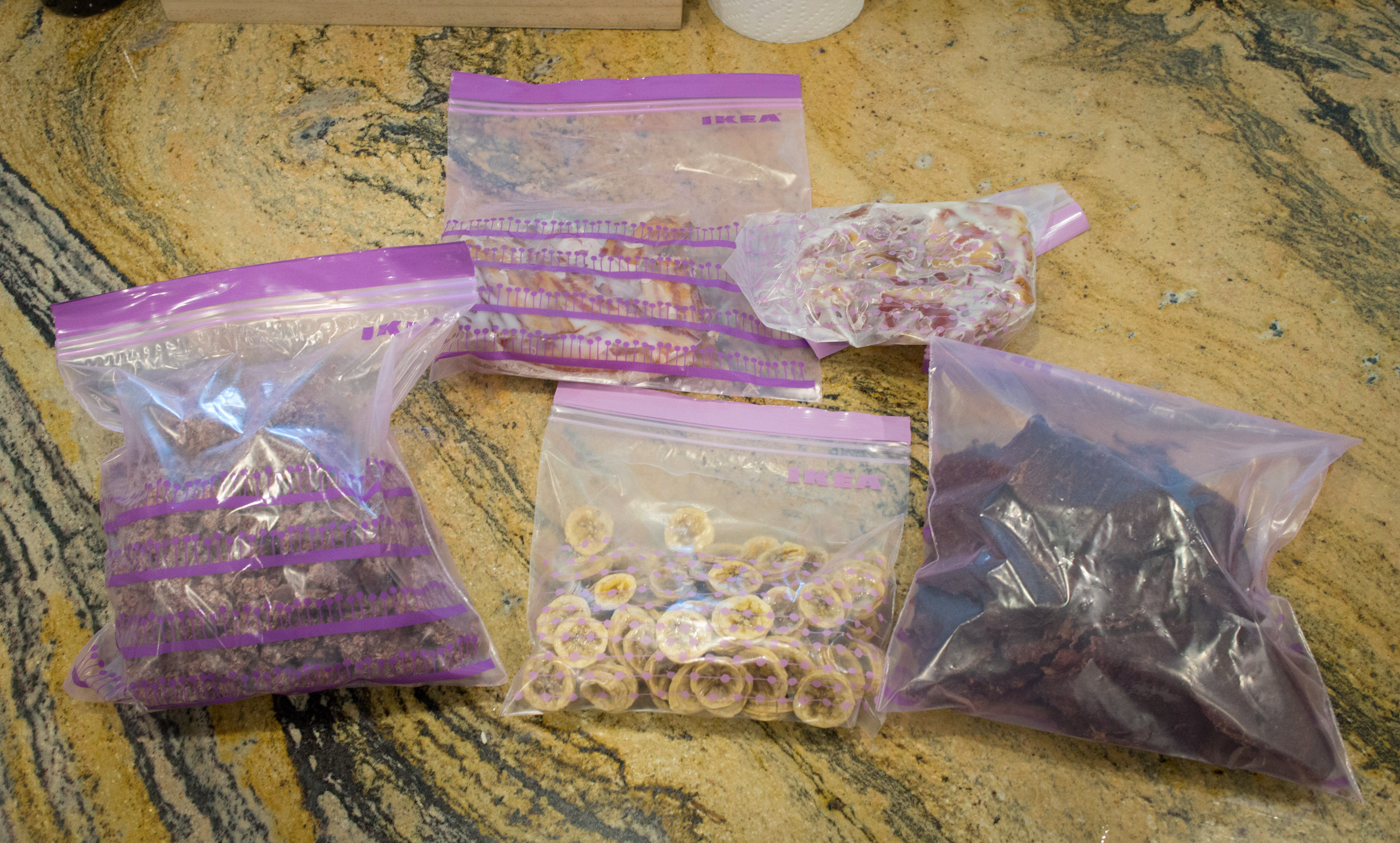 Dehydrator
A dehydrator comes in handy for preparing food for travel. I use a Nesco Snackmaster FD-75A. Cheaper than the Excaliburs, the thermostat is accurate, and it's easy to wash in the dishwasher. These go on sale occasionally, so keep your eyes open.
Beef jerky
I make raw beef jerky (PDF) with U.S. Wellness grass-fed london broils. Defrost it just enough to make it easy to cut with a sharp knife, slice into thin pieces against the grain, dehydrate for 8-12 hours at 104°F.1 I made several pounds of this and packed it in a ziplock bag with a couple of desiccant packs to bring in my carry-on.
Beef pemmican
Beef jerky is very lean, which makes it less ideal as an all-day energy source. One of the things you can do to increase its fat content is to make beef pemmican. Mix equal parts powdered jerky and beef tallow. Properly prepared pemmican will keep at room temperature for a long time. It's packed with nutrients and calories, and makes excellent traveling food. There are a lot of recipes out there, but the simplest one is:
Powder your beef jerky in a food processor or meat grinder.
Melt an equal part of beef tallow.
Combine your powdered beef jerky and melted beef tallow and form into bite-sized balls or press into a sheet.
Refrigerate to set up, break into servings, and place into a storage container.
You can also add raw honey or dehydrated fruit to the mix if you want to get fancy.
I prepared several pounds of pemmican and put it into a ziplock bag. It basically turns into a giant bag of fatty peat moss when it warms up in the hot Florida sun, so I brought a fork in my backpack to eat it with.
Bacon
I cooked several packages of Applegate Sunday Bacon to take with me on the trip. It keeps pretty well at room temperature and it's easy to travel with. You can combine it with cooked food to add flavor, too.
Bananas
Dehydrated
I sliced a bunch of yellow-green bananas into banana chips and dehydrated them at 135°F for about 10 hours. Melt a small amount of pork lard and mix them up in a ziplock to coat them and they make a nice, non-perishable snack.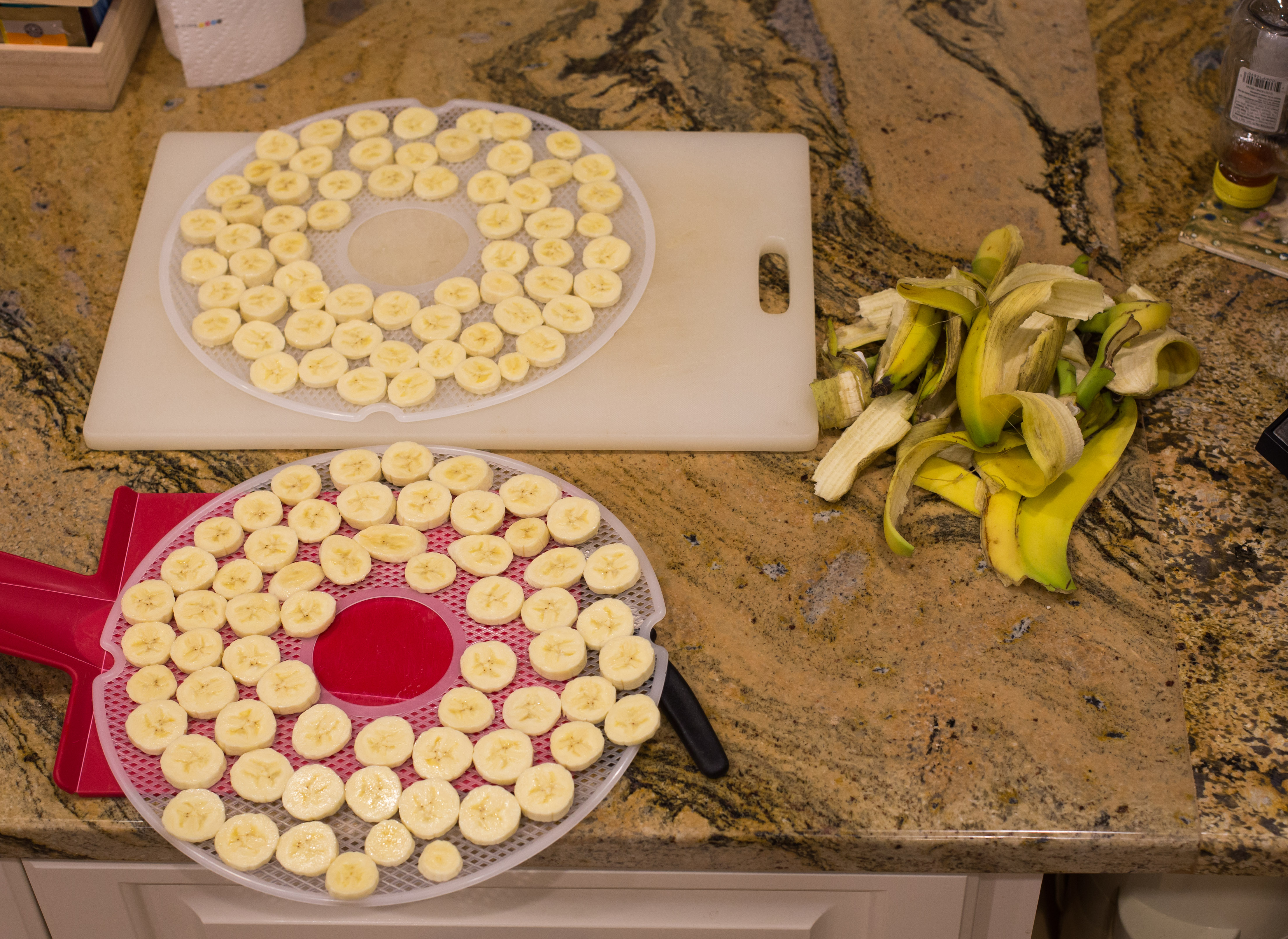 Fresh
I bought a half dozen or so when we got to Orlando. They travel well and come in their own packaging.
Parks and attractions
We were at the resort for almost 7 days and had park passes for 4 days. We ate out a lot: Saratoga Springs resort, Downtown Disney, the Magic Kingdom, Epcot, and Hollywood Studies (née MGM).
We found most of the walk-up food places in the parks were more than willing to work to accommodate food issues. Usually this involved speaking with a manager and selecting your food options from a special menu. Gluten, dairy, soy, and onion issues were easy to accommodate for my mother and sister. I didn't bother attempting to find something I could eat.
When selecting restaurants in the parks, you'll definitely want to make reservations, as the restaurants tend to fill up quickly. You can specify allergies as part of the reservation process and this will be on your table ticket.
We ate at several restaurants in the parks. They were all happy to go out of their way helping to accommodate food issues. Most places had an allergy menu, and the waiters always offered to bring a chef out to discuss options and modifications they could make to items on the menu. The chefs were all more than willing to help and very knowledgeable about their menus and potential pitfalls.
Downtown Disney
We spent several days wandering around Downtown Disney and the resort prior to my sister's arrival on day 4. We ate lunch at Fulton's Crab House where we spoke with a chef about allergy options. I went a little crazy and asked for a piece of grilled salmon with romaine and olive oil on the side. They were more than willing to accommodate and I didn't notice any reaction from the food. The salad did, however, come out with croutons initially and I had to request a replacement.
Saratoga Springs Resort
There is only one proper restaurant on the resort grounds: The Turf Club. The other option is a walk-up deli-counter-style place called the Artist's Pallet, which did have a small selection of pre-packaged gluten-free stuff, but nothing beyond that.
We ate dinner at the Turf Club and spoke with a chef about allergy options. I ordered grilled salmon with romaine and olive oil after discussing my various sensitivities with the chef. Unfortunately there must've been some sort of cross-contamination issue, because I had IBS issues most of the day at Epcot the next day.
Epcot
Epcot is usually our favorite park to visit. The ambiance and relatively low-key atmosphere make it a very pleasant place to spend the day, especially for those of us who are somewhat past the Disney fantasy stage (though only somewhat). Epcot has its annual International Food and Garden Festival in the spring. The outdoor garden features and additional food vendors add a lot to the atmosphere of the park. The variety of food options available at the various themed food stalls scattered around the World Showcase and elsewhere around the park were especially impressive. Each vendor usually featured 2-3 food options and 1-2 drink options unique to that vendor.
We had a reservation for an early dinner at the the Tokyo Dining restaurant in the Japan pavilion. We were seated by the front window looking out at the World Showcase lagoon, which made for excellent people watching.
Sushi places are always easy for me. I just order a sashimi platter and ask them to avoid using garnishes. I had two servings of the sashimi sampler. My mother and sister spoke with a manager who helped them select safe sushi rolls. My father had a Japanese beer flight and later the rest of the family had a flight of sake for the table. Good times were had by all.
Magic Kingdom
The Magic Kingdom has excellent experience dining, but the overall culinary feel is fairly bland and more in-line with typically poor theme-park fare. If you want to eat with Disney characters and great atmosphere, this is your place, but don't expect culinary excitement.
The rest of my family had lunch at Cosmic Ray's Starlight Café. The place was slammed for lunch, but they were able to get assistance in selecting some gluten-free options (hot dog with a gluten free bun). The gluten-free hot dog was actually better than the standard chili dog my father ordered, given that they made it special and it was still hot when it was delivered (unlike the chili dog).
We had dinner at The Plaza Restaurant. We had reservations (table wait was 45–60 minutes without). Restaurant was OK. It took an inordinate amount of time for the waitress to take our drink orders. We had to talk to the host to get someone to come over. They provided a binder with various allergy information for a wide range of dishes, including detailed information about the spices used in them. One of the chefs came out to discuss options for us. My mother and sister ended up ordering gluten-free fried chicken with fries. I asked for an empty plate and ate some of my pemmican, jerky, bacon, and banana off of it. I'm sure I received a few odd looks.
MGM
We ate at Mama Melrose's Ristorante Italiano. They ended up blocking off the area in front of Light, Motors, Action! (which was worth the whole trip to MGM—they have some incredibly talented drivers) for a special event as we were trying to cross the street to the restaurant. They were rather unpleasant about making us detour around nearly the whole park to make it to the restaurant. We just made our reservation time.
The restaurant provided us with an allergy menu that indicated which dishes were suitable for which allergies. The chef, Joshua, also came out to discuss our options. He was absolutely excellent. Knowledgeable, with great suggestions for the best-tasting substitutions and combinations. The experience here was a home run. It being an Italian restaurant and after my cross-contamination experience earlier in the week, I didn't bother to order anything here. Once again opting for an empty plate and filling it with my own pemmican and beef jerky.
Conclusion
Planning makes a big difference. Get your reservations, look at menus, call ahead to the restaurants to speak with someone about food accommodation options. For those of us with especially pervasive gut issues: Bring lots of snacks and do your best to find a place to cook your own food while you're there.
If you're the type of person who can tolerate the occasional cross-contamination and whose list of tolerated foods isn't smaller than the non-tolerated ones, you'll likely have an excellent experience dining at Disney.
Disney does the complete experience very well. Their culture pervades every aspect of the experiences you have at Disney parks and resorts. We found this to be just as true with their food places, which were more than willing to go out of their way to try to accommodate a wide range of food sensitivities. The chefs and wait staff were always helpful and approached each issue enthusiastically as a problem they'd enjoy solving. You won't find any grass-fed beef and dairy products, nor pastured poultry, though.
---
Consuming raw or undercooked meat may increase your risk of foodborne illness blah blah blah ↩