Table of Contents
Introduction
A recent technology change at work resulted in switching our contact center agents from phones to WebRTC. This was a good opportunity to upgrade headsets, as many of the analog headsets they're using are difficult to adapt consistently reliably and motherboards on mid-range business machines often have fairly terrible analog audio inputs. I tested a range of USB headsets for suitability for use by work-at-home contact center agents during an 8-hour shift.
Note: When I initially wrote up this article, it was at the beginning of March before the COVID-19 situation had really hit. Availability of anything related to remote work is extremely limited at this time, so the prices outlined below are no longer inline with reality. Availability has improved a bit compared to in March and April.
Selection rationale
The headsets selected are intended to be appropriate for all-day use by Contact Center agents using their computers to handle VoIP calls. USB was a requirement. Wireless headsets were not considered due to the need to charge and reliability issues. High-end noise cancelling headsets were also not considered due to cost. The target price range of this lineup is between $30 and $120. My goal was to suggest an optimal option for each of good, better, and best within the listed constraints.
Due to budget constraints for the project, I was not able to acquire a comprehensive lineup for each category. Selection was based on maximizing variety (e.g., both mono and stereo) and brand coverage. I based my selections off of initial calibration from The Wirecutter's article on USB headsets, browsing online reviews, and finding the cheaper of the options at time of purchase (e.g., between mono and stereo) for a given model.
The headsets
Good
$20–$30 range. Low end of headsets evaluated. Comfort was marginal. Not ideal for using all day.
My criteria for Good turned out to not be good enough. I tested one that fit into the intended price range and I would not recommend it for the contact center use case.
Expect to spend more than $30 for a reasonable headset for this use.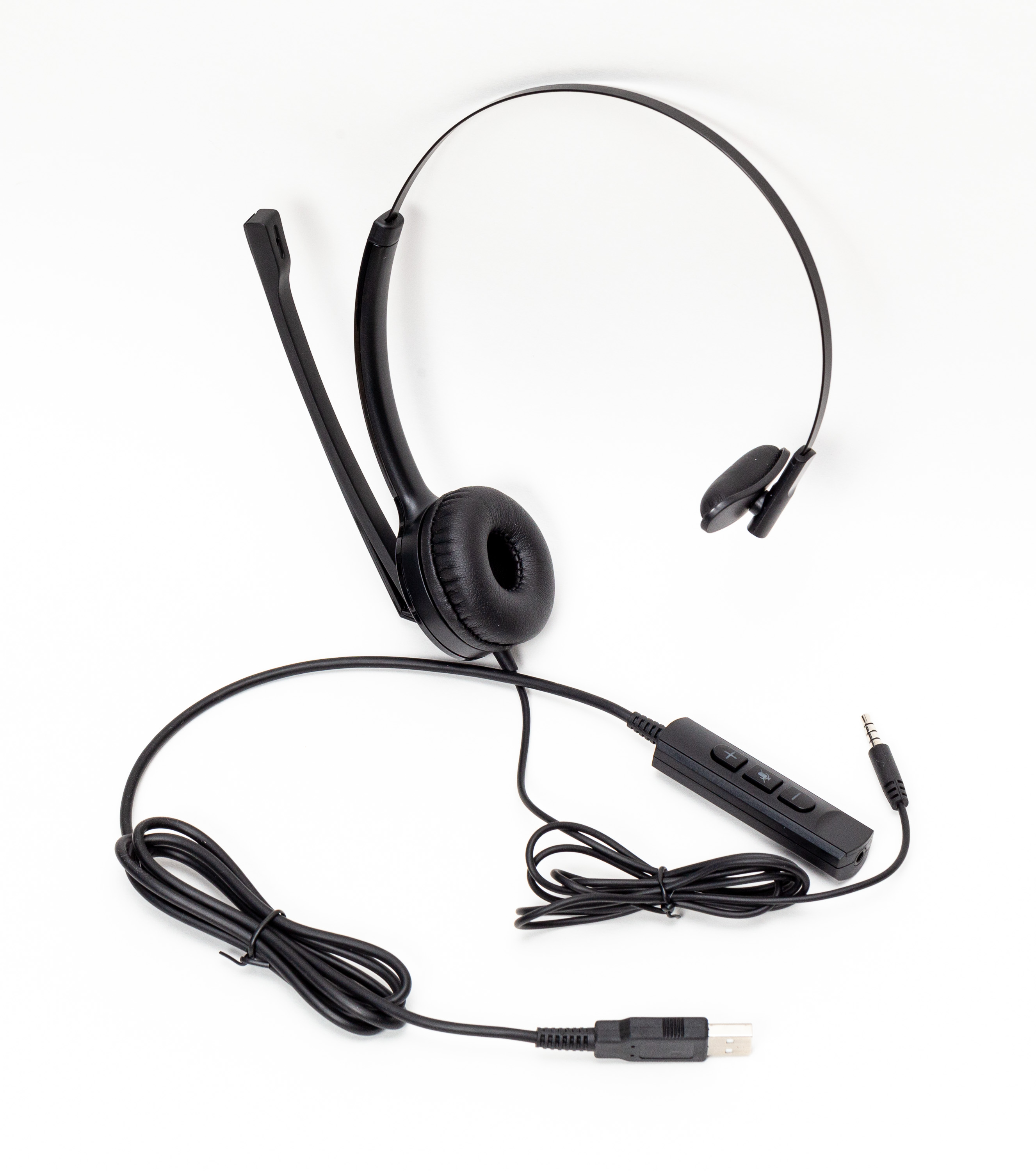 Comes in an actual box, which is not true of some of the more well known brands. Build quality is fine. There's no forward/back angle adjustment on the earpiece, which makes comfort poor for me and is probably a deal-breaker for most, but the vinyl ear pad is an upgrade over the hard foam of the other two headsets in this category. The microphone is only adjustable up and down. Can't bend it to adjust distance from your mouth, as the boom is made of hard plastic. No noise cancelling and background clatter of the keyboard is louder than other headsets in this category. This is the only microphone I tested that sounds like a crappy phone headset. Its baseline input level is also higher than the others.
The headset can be detached from the USB adapter to use with a single-port 3.5mm audio jack. This is an upgrade feature offered on the 5200-series Blackwire headsets, but none of the other Good range options.
Sound output quality is only appropriate for voice. The worst of the 3 in this category. Louder in comparison to the others.
Controls are responsive, but have only volume and microphone mute. No answer button. Microphone mute does not provide auditory feedback of change. You have to look at the red light on the button to tell when it changes.
Better
$30–$50 range. Better quality than the good headsets. Moving into more typical core brands. These are what I would consider minimum viability for intense phone usage.
Connection versatility is a compromise, since most of these will only connect via USB (possibly these vendors are using that as a differentiator with their higher-end headsets). The higher-end headsets either use proprietary quick-disconnect connectors that can attach to a variety of adapters (like Plantronics) or use a 3.5mm jack with a bundled USB adapter.
The Plantronics Blackwire C3210 was my choice in this category.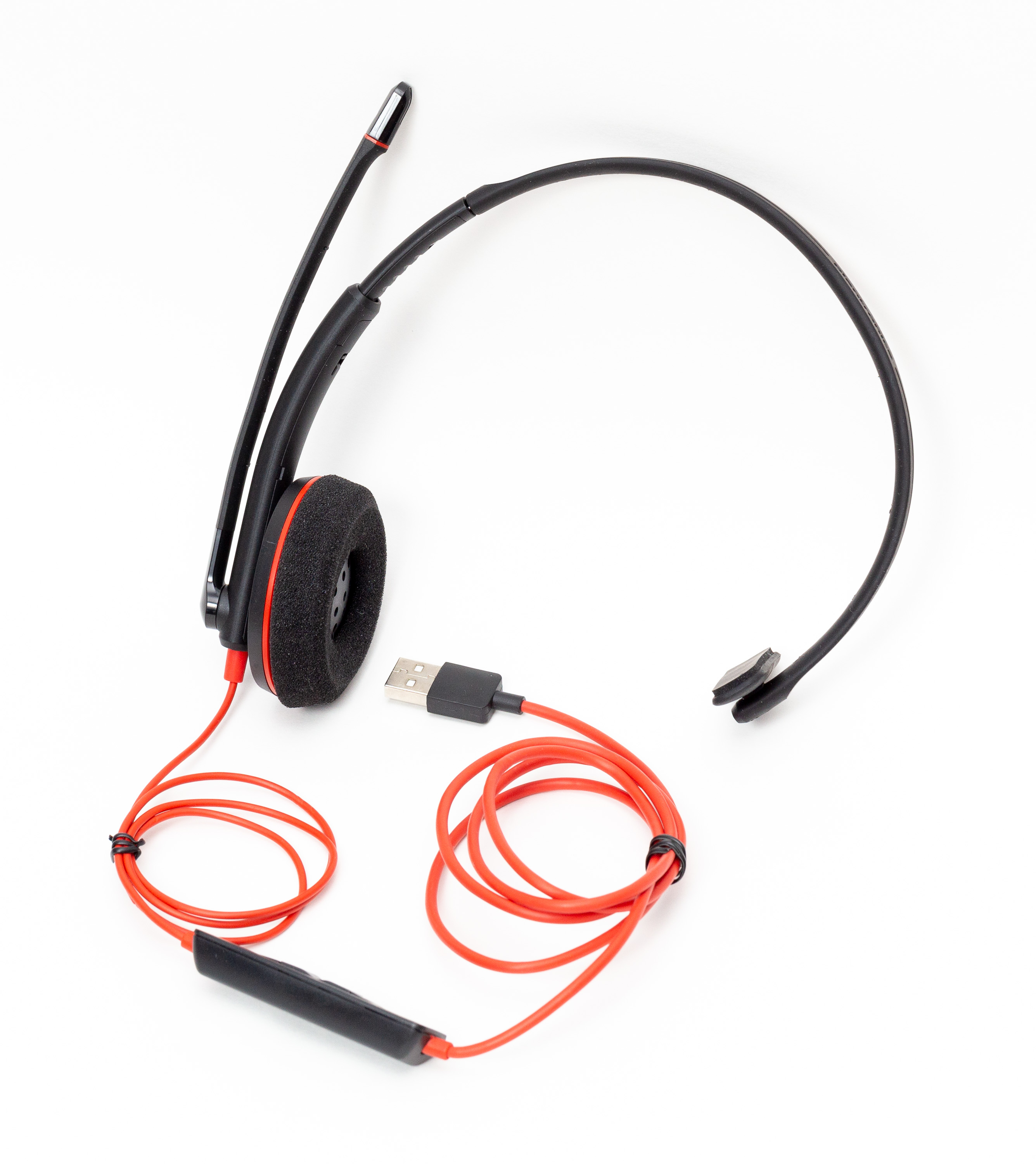 Cheap packaging. First impression of build quality is reasonable. Red highlights are a bit much. No echo sideband. No noise cancelling, but the background clatter of my buckling spring keyboard sounds reasonable at normal conversation levels. Headset is reasonably comfortable with appropriate adjustability.
Controls are responsive. The volume change changes two notches per press on macOS 10.14.
Sound output is targeted at reproducing voice ranges. Very minimal low-end audio output, but sounds good for voice use.
Solid, reasonably inexpensive headset.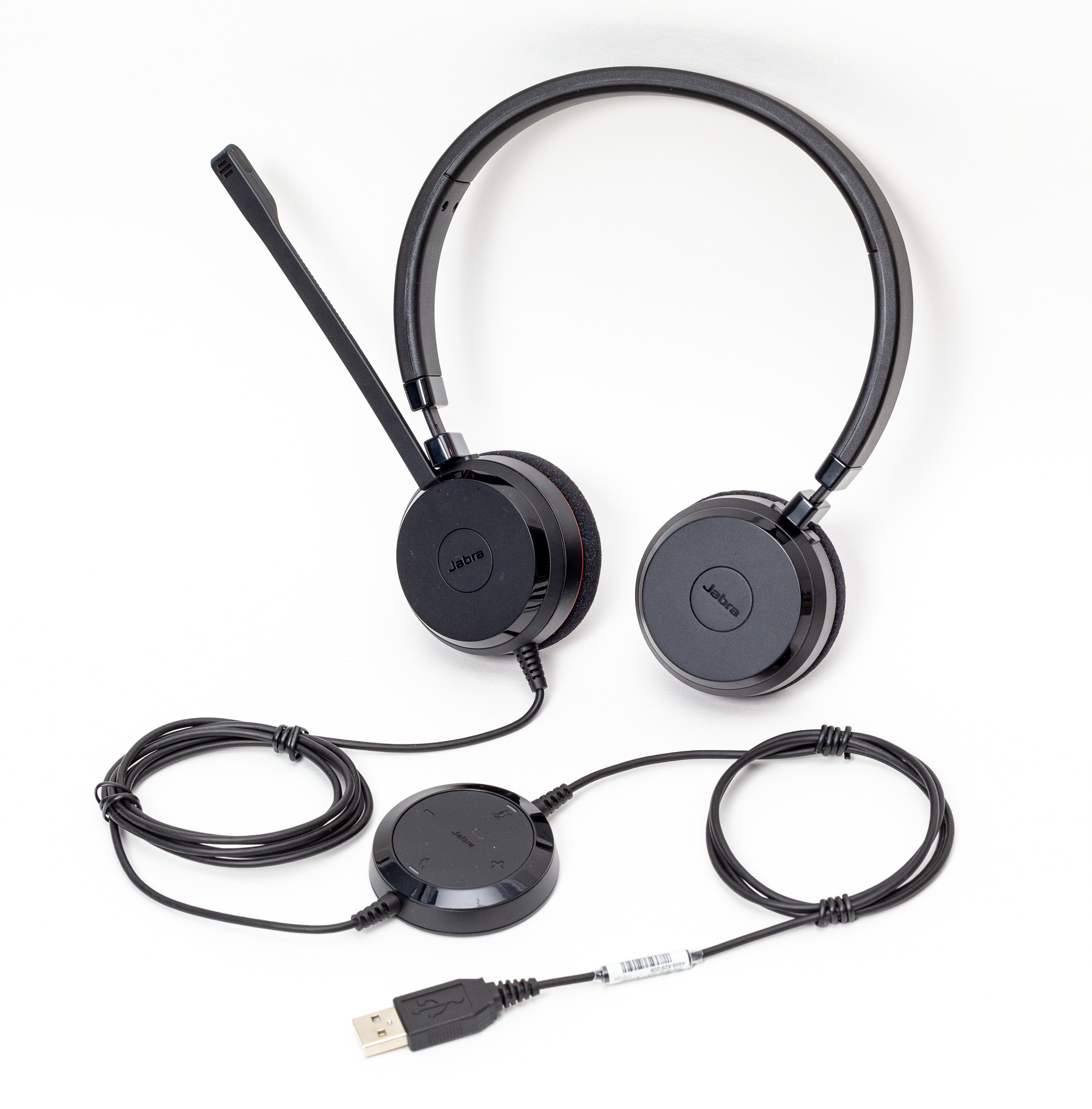 Better packing than the Blackwire, but still just a plastic bag. Build quality seems reasonable. Adjustments feel more plastic-y than I would prefer. Has echo sideband. No noise cancelling, but the background clatter of the keyboard is at a reasonable level. I do not like the feel of the stereo headset with foam ear pads. It would be uncomfortable to wear all day with my head size.
Sound output quality is clearly intended for voice use. Marginally better than the Blackwire. Some benefit to the stereo design in sound clarity and isolation.
Controls are designed to sit on the desk rather than be grabbed from around your chest. Volume changes were slow to respond to repeated inputs.
Seems like a good headset, but I didn't like the ergonomics.
Best
$50—$120 range. Best quality out of those evaluated. Essentially the same comfort level as the premium headsets, but minus extras like wireless and noise cancelling.
Connection options are numerous, especially with the Plantronics quick disconnect system.
The Plantronics EncorePro HW510 was my choice in this category.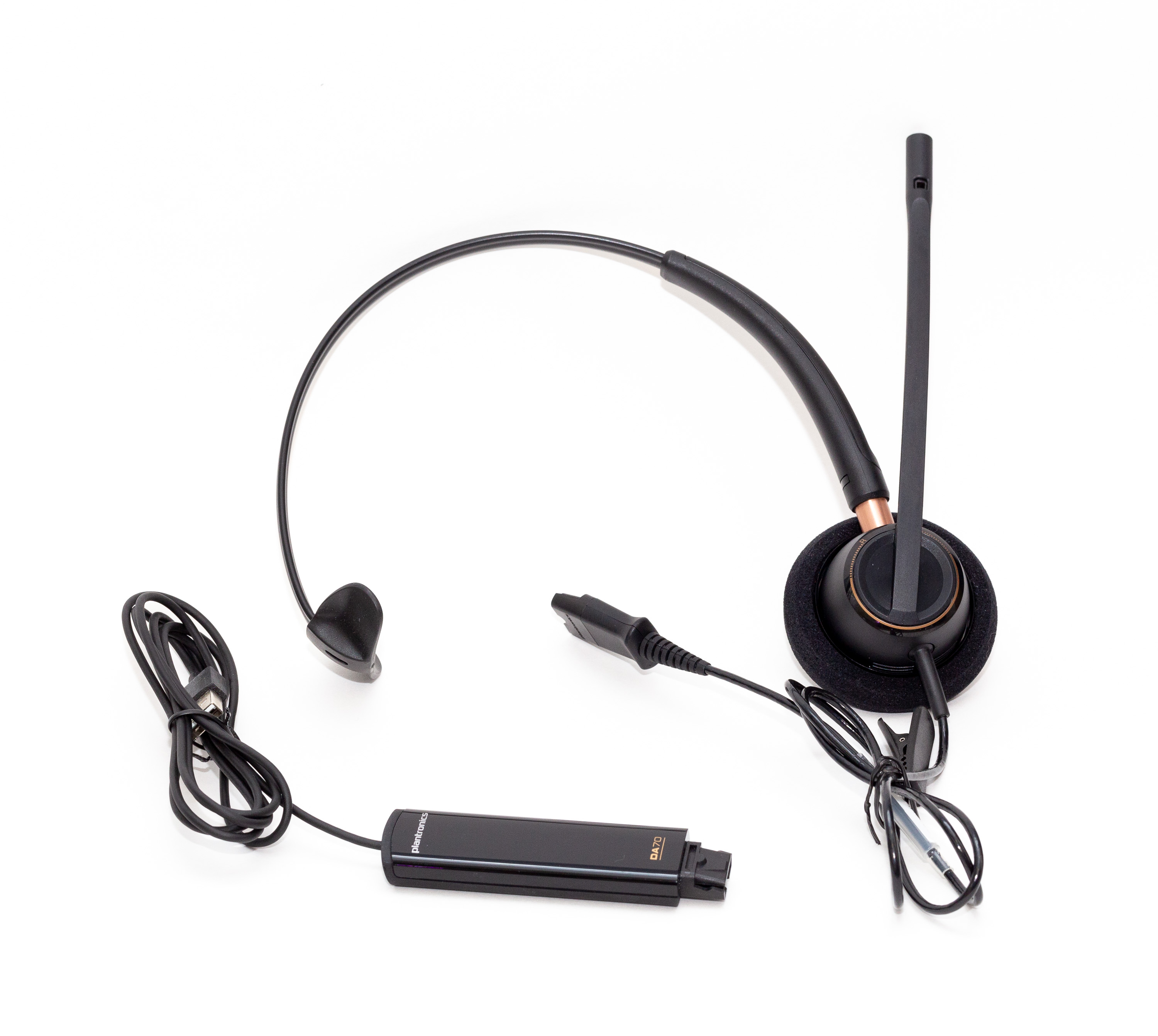 Came in an actual box. Build quality is good and the headset is all-around a noticeable improvement over the older SupraPlus, with better adjustment mechanisms and a better feel. Headset boom is adjustable and bendable. The ear piece is on a ball joint that pivots in all directions. The ear foam is soft and comfortable. Has echo sideband. Has limited noise cancelling. Background noise is minimal with the DA70 audio processor, as it does some work on the inputs and outputs to level things out.
Sound output is good. Slightly fuller range than the Better headsets, but still obviously calibrated for voice.
I tested this with the DA70 USB adapter, so I did not have control buttons.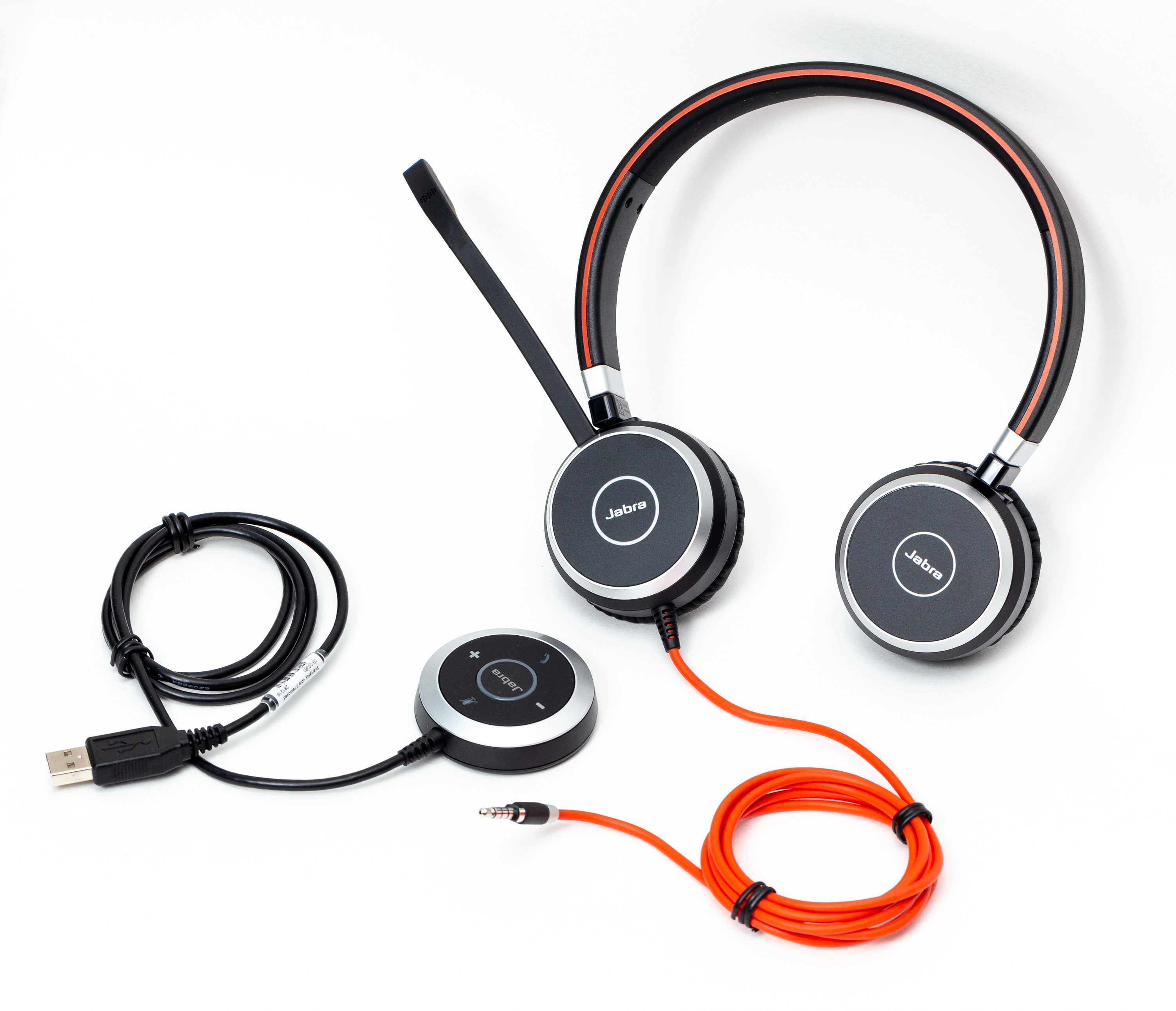 Mostly still just a plastic bag, but the headset also includes a carrying case that it comes packed in. Build quality is not radically different from the Evolve 20 on first impression. Adjustable parts still feel vaguely plastic-y. The vinyl ear cups are a nice upgrade over the foam of the Evolve 20. Has echo sideband to hear plosives. No noise cancelling, but background keyboard clatter was reasonable.
Sound output quality is still intended for voice, but is a slight improvement over the Good headsets.
Controls are similar to the Evolve 20. Volume input is more responsive than the Evolve 20 on macOS, though.
Decent headset, better than the good headsets, but I still don't love the ergonomics.
Conclusion
Expect to spend more than $30 for a decent headset. Comfort came out as the most important quality and adjustability of the earpiece was the biggest contributor to comfort for me. Sound quality, interface features, and other factors are broadly similar between the headsets in each grouping. If a given headset isn't comfortable for you, try another.