Table of Contents
Introduction
Macro photography (I dabble) requires a lot of available light or good artificial lighting. Small apertures for wide depth-of-field and close focusing distances limit the amount of light that gets to the sensor. Normal speedlites can work fine to augment or replace ambient light, but when you're shooting freehand it's difficult to handle a flash and the camera.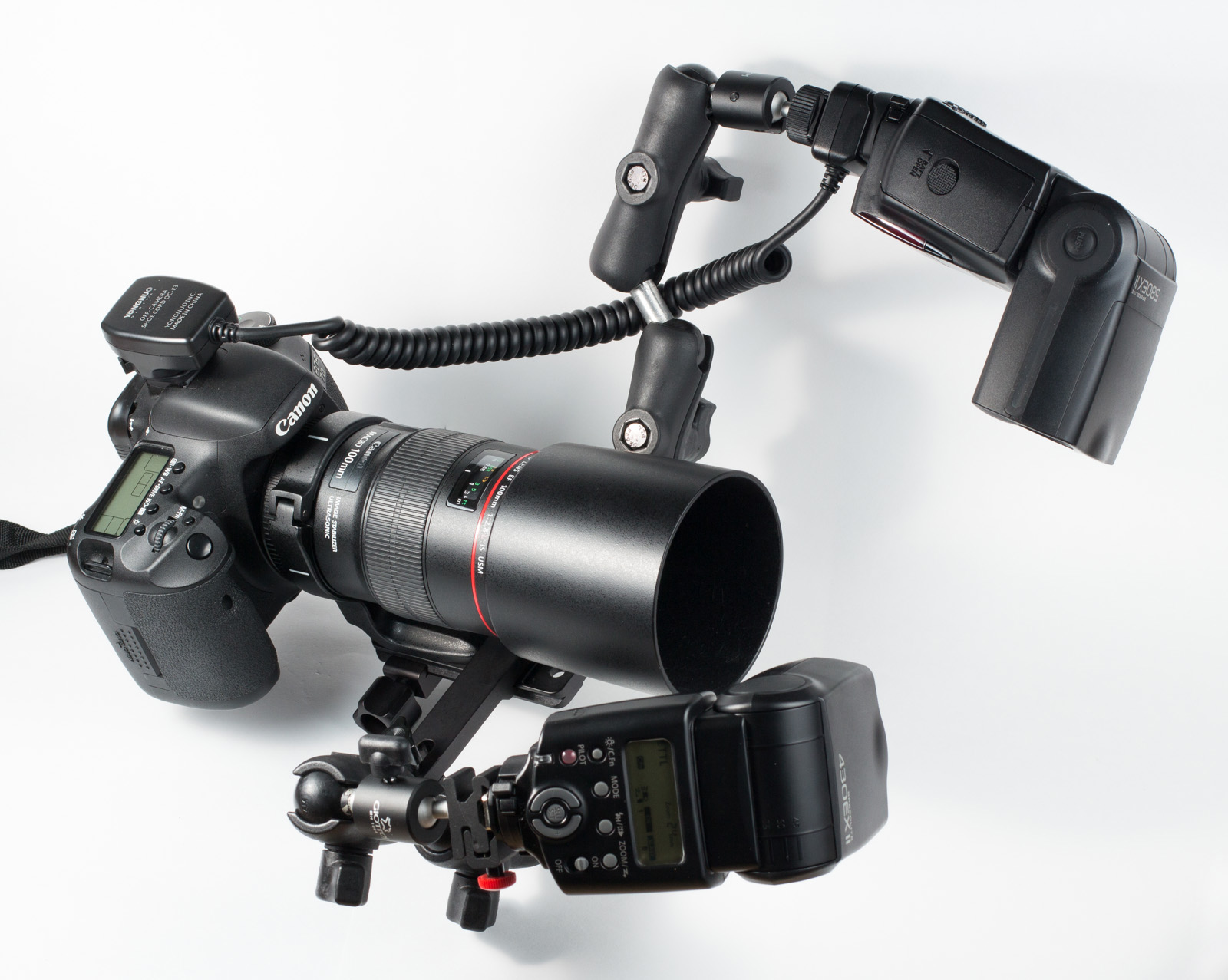 A flash like the Canon MT-24EX is a good solution for keeping all of the parts on the camera, but at close to $1,000, it's difficult to justify on top of your existing flashes. Wimberley's F-2 macro flash bracket is an excellent compromise. With it, you can mount one or two regular speedlites to a tripod colar and position them using the balljoint arms. Problem is, they run $169 per arm.
The Wimberley components are of very high quality, so the price is justified, but since they use slightly-customized RAM Mounts equipment for most of the flash arm, it's simple to construct a DIY solution slightly more cheaply.
Other people have documented this approach, but based on my difficulty finding the correct parts from their instructions, I'm not sure how many of them have actually assembled the bracket.
Parts
Flashes
I use a Canon 530EX II, and 430EX II for macro shooting with a Canon 100mm f/2.8 L IS Macro, which is a relatively weighty setup. Dual 270EX IIs would be ideal, but Canon has limited the 270EX II to flash group A, so you can't control the two lights independently, which is a requirement for good macro work. There are some 3rd party flashes that might work but I haven't looked into them to see if they have the necessary features (e.g., MK-300).
The modern RF-driven speedlites from Canon (or a 3rd party) like the 600EX II-RT or 430EX III-RT are better options if you do not already have flashes and have a body with built-in RF signalling. I used the built-in flash remote control feature on my 7D when I was still using that body, so that's an option for older set-ups.
RAM Mounts arms
The RAM mounting systems are pretty versatile and they offer a lot of different options depending on your requirements. The arms come in two different materials (aluminum and composite) and three lengths, and there are balls sizes for pretty much any mounting requirement.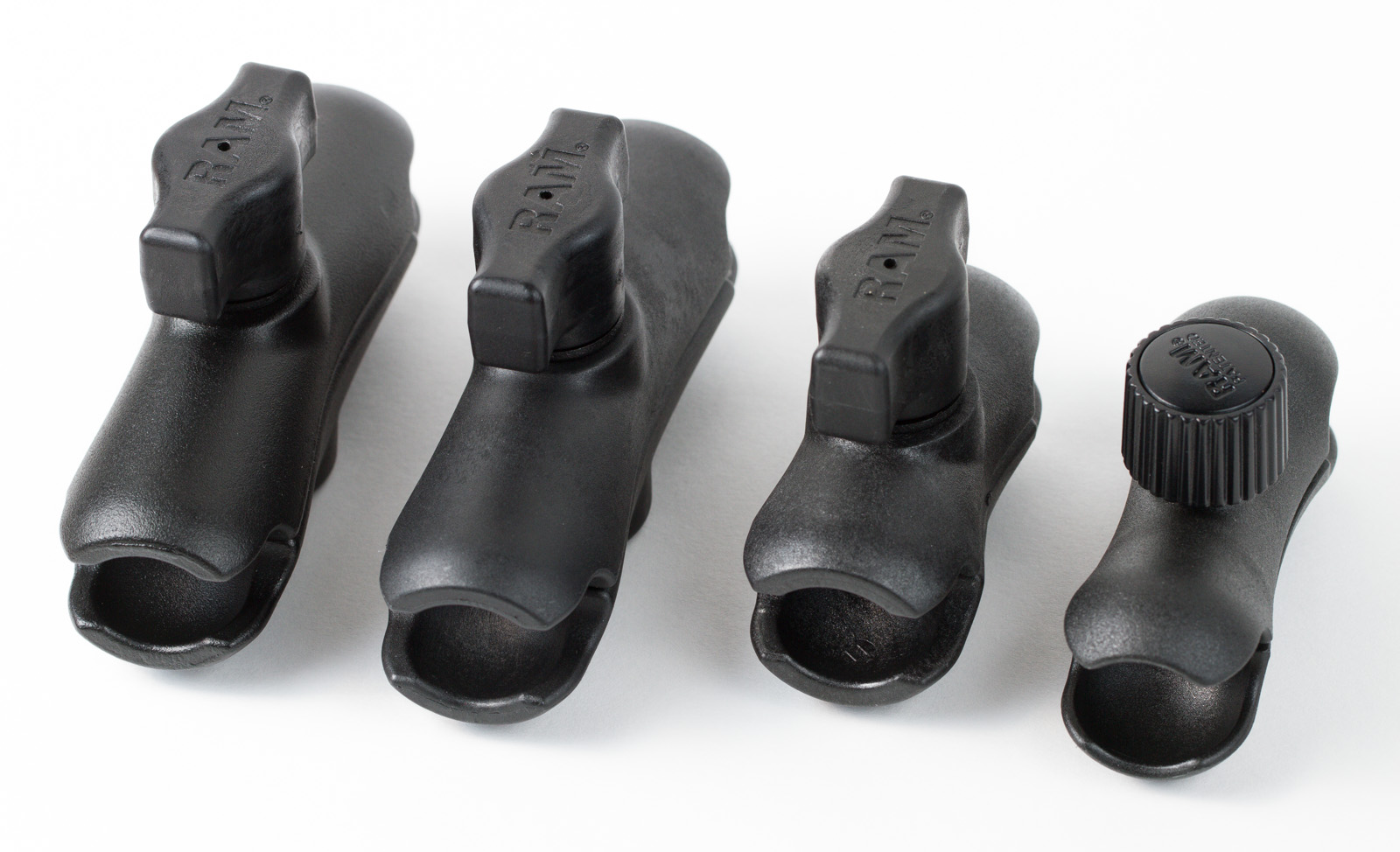 The composite arms come in short, normal, and long lengths. Only the short and normal lengths seems appropriate for this application. You will need two arms for each flash holder (see the picture at the top of the article). You can mix and match the two as needed.
RAM Mounts also offers a lightweight version of the short composite arm (last one in the picture above), but its grip isn't strong enough to support the weight of most flash heads.
The parts list is as follows:
| Part | Part # | Weight | Price |
| --- | --- | --- | --- |
| Composite arm | RAP-B-201U | 4.8oz | $11 |
| Short composite arm | RAP-B-201U-A | 2.1oz | $9 |
| Double ball joint | RAM-B-230U | 1.6oz | $15 |
| 1" ball 1/4"-20 male | RAP-B-379U | 0.8oz | $8 |
Wimberley custom parts
The Wimbereley system uses an Arca-Swiss quick release arm and a 1/4"-20 female block to connect to the RAM arm. I was not able to find these parts in a generic version. Someone more enterprising than myself can probably put together a setup for this that'd be cheaper than the Wimberley parts. I did not. Instead, I got the part numbers from Wimberley and ordered two of each:
| Part | Part # | Weight | Price |
| --- | --- | --- | --- |
| 1/4"-20 female block | CP-SS-042 | | $25.75 |
| M-1 quick-release arm | M-1 | 2.9oz | $66.00 |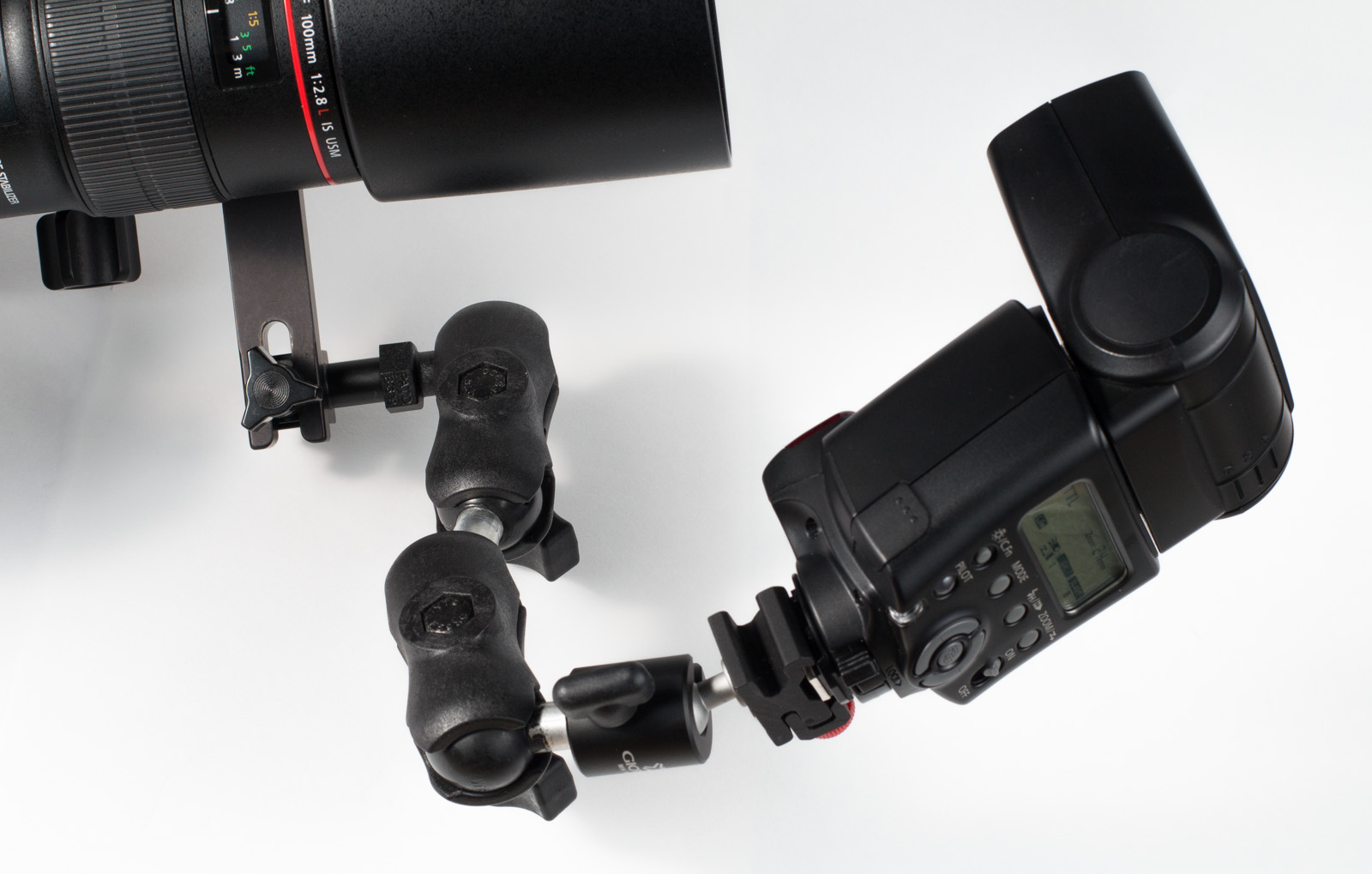 Conclusion
Although this system can be a bit unweidly with larger flashes, it provides a stable platform for handheld macro photography that's easier to work with than trying to handhold separate flashes with the camera, and requires less gear than lugging lightstands. Not having to buy an $1,000 macro flash is a huge benefit as well.
The DIY approach offers some savings over the Wimberley solution, but it's not substantial. It does offer a wider range of setup options for customization; however, Wimberley makes a nice system, so if you're not inclined to sourcing parts on your own, you're probably better off just buying from them. The custom RAM Mounts parts they use have a better fit and finish than what you'll find on Amazon and having the whole kit ready to go with one purchase is nice.
That said, if you already have some spare RAM parts around, the cost savings becomes more relevant.
Total parts list for 2 normal length composite arms (vs $338 for the Wimberly set):
| Qty | Part | Part # | Weight | Item $ | Total $ |
| --- | --- | --- | --- | --- | --- |
| 2 | 1/4"-20 female block | CP-SS-042 | | $26 | $52 |
| 2 | M-1 quick-release arm | M-1 | 2.9oz | $66 | $132 |
| 2 | Composite arm | RAP-B-201U | 4.8oz | $11 | $22 |
| 2 | Double ball joint | RAM-B-230U | 1.6oz | $15 | $30 |
| 4 | 1" ball 1/4"-20 male | RAP-B-379U | 0.8oz | $8 | $32 |
| 12 | Total | | | | $264 |